Busy Bees awarded The Queens Award for Enterprise
Back in March Busy Bees Day Nurseries were given the fantastic news they had achieved The Queens Award for Enterprise.It is awarded for outstanding achievement recognising them as one of the best companies in the UK in their field. On the 21st of April this was made public in the London Gazette celebrating their great achievement in serving Britain.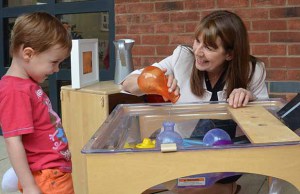 Celebrations were afoot after receiving the news at Busy Bees Day Nursery St Matthews Burntwood. St Matthews operates from a converted church on the outskirts of Burntwood in a quiet residential area between Lichfield and Burntwood.
They were presented with the award by the Queen's representative a Lord Lieutenant of the County. And received a Grant of Appointment and a crystal bowl. The nursery is able to fly the Queens Award Flag and use the emblem on marketing. The team are thrilled to have been recognised for all their hard work and the prestige that comes with having achieved the award. The Queens Award for Enterprise was established in1965 the award is valid for five years.
Busy Bees received the award for their efforts in promoting opportunity and training for apprentices. The management team are highly driven to provide staff the opportunity to unleash their full potential helping them to realise their dreams.
The company has their own in-house training academy where staff can train on short courses up to management courses. Giving all employees equal support and progression opportunities.
The company also work closely with those wishing to join the sector providing work experience opportunities and careers advice. Busy Bees have a comprehensive training and induction programme and mentoring of new employees boosting staff morale and company pride.
Busy bees opened in 1984 formed by six teachers after a lack of quality care in the area. The chain now has over five hundred settings both here in the UK and abroad in Malaysia Canada Singapore and China. They have been invited to a Summer Royal Reception later in the year at Buckingham Palace.