More childcare providers can now achieve the mark of excellence Millie's Mark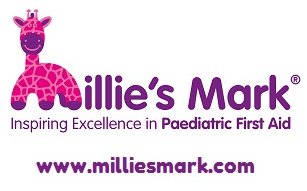 It is now possible for Millies Mark to be attained by childminders nurseries and preschools in England with plans to extend the initiative in Scotland and Wales at a later date as its currently only under consultation. To achieve the mark of excellence in paediatric first aid is a reassuring measure for parents and carers to know they are leaving their child in safe hands. First aid training is compulsory to all new nursery recruits with a level two or three qualifications as of the 1st September 2016. All new recruits must hold a paediatric first aid certificate or an emergency paediatric first aid certificate.
Dan and Joanne Thompson started Millies Mark which is named after the tragic death of their daughter Millies Thompson who devastatingly passed away after choking on food whilst at nursery in 2012. The accreditation for excellence in first aid taught by highly experienced medical health and emergency service professionals. The course is designed for people who care for babies and children in any professional setting and it is recommended for all who work in the early year's foundation stage sector. Millies Mark helps to reassure parents their child will be cared for by safe and qualified staff equipping settings to deal with emergency situations. Millies Mark training can take between three to six months education includes support from a mentor spot checks and risk assessments and regular audits.