Saddleworth Stars Nursery named as the best nursery in the world
Saddleworth Stars Nursery in Scouthead has picked up the award for the best overall nursery in the world. The decision was made by the National Day Nurseries Association judges.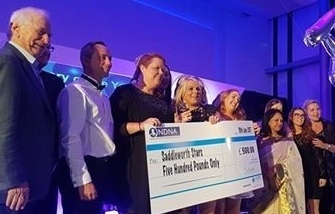 Before going on to win the award for the overall nursery of the year 2017 Saddleworth Stars also beat hundreds of nurseries from the North. They were also met with tough competition from nurseries in Dubai, Abu Dhabi, England and Scotland. In order to win this award votes from parents and comments about their experiences were shared, as well as a visit from an inspector sealed the decision to be given this award. The report from the inspector was shared with the international judging panel, who then made the final decision. The award was presented at Old Trafford by TV's Johnny Ball
Each and everyone at Saddleworth Stars is over the moon with this recent achievement.