Why is it important to get your cosy area right?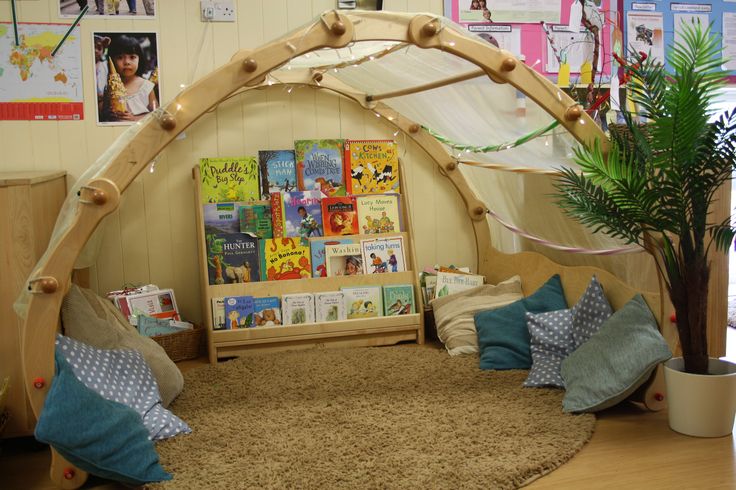 Having a cosy area within any under 2's room in the early years is essential however practitioners are not always getting it quite right. A cosy area is more then just some soft furnishings in an area of the room where there is some space. A cosy area should offer a secure yet stimulating area where the under 2's can go to reflect, recharge and make sense of the world around them. Cosy areas are a great space for children to take themselves away from the busy and often loud environment of the room and take a moment to unwind and to feel peaceful.
It is important to remember that child development theorists have stated the importance of meeting basic human needs such as sleep and food before a child can move on to learning Theorists have also influenced practitioners practice in regards to the importance of attachments and feeling safe and secure. A cosy area enables all the basic stepping stones for children to progress and develop. A cosy area should be placed in a quieter section of the room and offer a feeling of being sheltered and undisturbed however being an accessible area at all times. For more advice on creating a continuous provision in your room visit our article here.
Having the cosy area next to the noisiest areas such as the construction area should be avoided where possible. It is hard for a child to rest when there is banging and crashing happening unpredictably around them. The resources you choose to add to your quiet area depend on the space and feel you are trying to achieve in your cosy area. Some common themes may be natural materials, black and white or sensory. You may choose to adapt your cosy area to fit an early years topic or theme for example creating a jungle or forest cosy area. A cosy area although a space for relaxing and feeling safe should also offer stimulation in all of the three early years prime areas; Personal, Social and Emotional, Communication and Language and Physical Development. Have a look at what you already have in your cosy area and what could be added to improve development in these areas. Have a look at our resource list below for some ideas:
Resources to enhance your early years cosy area:
Canopies, netting, hanging material, dividers, tents or gazebos – Ensure these are all fitted properly so there are no health and safety risks. Hanging these from the ceiling above a cosy area can add another level of security for the children, a place where they really feel they are away from the busy environment.
Beanbags, crescents, poddle pods – Any form of soft seating. So the children can lie down, be comfy and recharge ready to return to the busy room
Mirrors – These add interest and help the children to develop in the prime areas
Books – Books can be used by the children in the cosy area. It will be down to each child's interests as to whether they choose to use the books or not. Books about emotions or families are nice to have in the cosy area to add security and develop an awareness of feelings. These can be used independently at the child's leisure
Sensory Lighting – Some settings like to change the atmosphere in the cosy area by adding lightings such as star projectors, fish bubble tubes or fairy lights. Again consider health and safety when adding these to your cosy areas.
Sensory bottles – These are something which can be explored independently, quietly and promote development in the prime areas.
Keep displays in the area minimalist – Create a communication friendly space which isn't too stimulating or overwhelming
Add comforters – This is a nice space for children to enjoy their comforters when they feel they need them.
Have a look at our cosy areas Pinterest board for some more inspiration