Most speech and language disorders are spotted right from the start. It is usually noticed when speech development begins and as they start making sounds. However, stuttering typically begins around the age of two and three when they start putting words together into short sentences.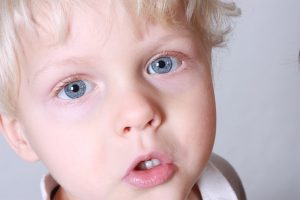 The first signs of stuttering are typically the repeating of words or parts of words. Repetitions and prolonging of sounds, speech blockages and signs of struggle to speak may follow. There are many different theories as to why some children stutter and others do not. None however, are completely known. Through the use of advanced technology, today we are now able to conduct brain scans in order to gain a better understanding of the processes involved in the brain when stuttering occurs. These scans show that stuttering involves a problem with processing speech signals from the brain.
Around 60% of those who stutter have a family history of stuttering, which shows that genetics definitely plays a part, although the precise details of how stuttering is genetically transmitted are not yet fully understood. A recent study followed a large group of children through the early years of life. The researchers found that 11% of the children, began to stutter by four years of age. The majority of pre-schoolers do overcome a stutter by the time they are teenagers however, it is not certain to tell what child will recover and those who will not.
Early intervention is important because stuttering can interfere with children reaching their educational potential and their vocational potential later in life.
It is much easier to tackle stuttering if it is addressed early on. This is because when children are older than 6 it becomes a lot more difficult to treat. If it is left until adolescence it can become a lifelong difficulty. Therefore, parents should take their children to a speech therapist for advice as soon as they notice that stuttering begins, or if they attend nursery speak to their keyperson who will be able to help.
Stuttering is usually a result of nervousness and children can find it very embarrassing in social situations. Chronic stuttering can happen as a result of social anxiety, in which people with a stutter develop a fear of speaking in front of people. If not treated properly those who stutter can become seriously anxious. In this situation, they feel a sense of humiliation whenever they engage in a social event, whether it be in a group or one to one. This can be a very challenging process and often helps encourage the person to overcome the embarrassment by teaching them techniques to make their speech flow.