Jigsaw Curzon House Day Nursery has been voted National Day Nurseries Association's Nursery of the Year. The title was for the North of England and they received their award at the ceremony at the Ricoh Arena Coventry.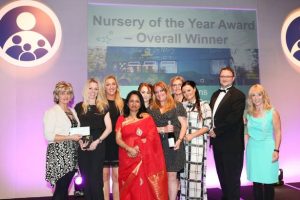 Parents were over the moon for the nursery and Claire Taylor, nursery manager, of Jigsaw Curzon House said: "This is fantastic news and so exciting for all of us. We are delighted."
Jigsaw Curzon House Day Nursery has been opened for 16 years and has seen many children move on through the nursery. The nursery is situated within a converted house surrounded by gardens; it also provides an out of school facility in a converted double decker bus that is situated in the nursery grounds.
Children attending Jigsaw Curzon House Day Nursery participate in a wide variety of activities and learn through real experiences for example the children build with real bricks using wet sand and they investigate the bug hotel to see what bugs they can find.
The panel of judges were overwhelmed with the comments made from parents about the quality of care their children have received whilst attending the nursery.
Massive congratulations to Jigsaw Curzon House Day Nursery