Health Minister Dr Dan Poulter and Childcare and Education Minister Sam Gyimah announced on November 21st 2014 that integrated health and early years reviews for 2 to 2-and-a-half-year-olds will be set in stone from September 2015.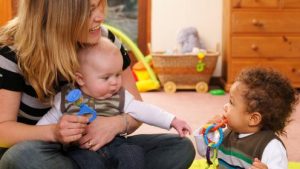 At present, Health and early years reviews of young children are carried out separately. However, the government have decided to integrate them as a means to allow parents to draw on the expertise of health visitors and early years practitioners, in order to obtain a more fulfilled picture of their child's development.
Age 2 is a fundamental development point where problems such as speech delay and behavioural issues arise. By integrating these assessments it will benefit parents by giving them the support they need to understand their child's needs. The aim of the integrated reviews is to bring the healthy child programme review at 2 to 2-and-a-half and the early years progress check at age 2 years, together.
The National Children's Bureau have published a report on a 2-year pilot study of integrated reviews from 2012 to 2013. The pilot included 10 different locations across the UK and recommended that local areas should decide the best approach to integrating the 2 reviews, based on local needs and circumstances.
The findings from the report show that parents preferred this joined-up approach. An advantage of the integrated reviews is that health and early years professionals can share information together, therefore reducing duplication and giving parents a thorough insight into their child's progress.
Health Minister Dr Dan Poulter says that "this report shows that integrating health and early years reviews is better for children and their parents". He believes it "gives a more complete picture of their child's development and supports children to get the best start in life".
"The early years count and this new approach will reassure parents they have the information they need to support their children when they are growing up to give them the best possible start in life" Says Sam Gyimah, The Childcare and Education Minister. These changes will be made from September 2015 as health and early years practitioners will work together to improve outcomes for young children. Also from next year, the introduction of tax-free childcare will give 1.9 million families up to £2,000 support per child, giving families the extra support they need for their child to get the best start in life.