To have a successful day nursery, the nursery and what you offer to both parents and children must appeal to parents. Most parents need the reassurance that children are being educated and learning whilst at nursery. Successful day nurseries design their nursery around the needs of the parents and children.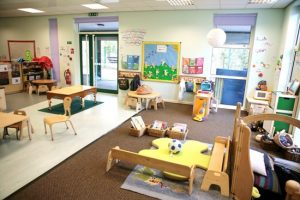 Making an impression
As soon as a prospective parent has left your nursery you want them to remember your nursery as you will never get a second chance to make a good impression. Owners and managers must pay attention to the overall look of the nursery as this is what people see when they walk through the door. The nursery should be clean and equipment in good condition, activities should be on offer for children to participate in and practitioners should be engaging and talking to the children. On entrance to the nursery the greeting should be warm and welcoming and if you know their name or child's name refer to this as this makes it a little more personal. Always take time to reflective on your environment, take five minutes to look at presentation as this will make a difference later on.
Being educated at nursery
Parents are very keen for children be learning whilst at nursery, therefore it is important that nurseries pay attention to ensuring children are learning through play. Some children spend a high proportion of their week in nursery, so it's important they are learning as well as having fun and making friends. Offering extra curricular activities can appeal for parents who wish their children to participate in other educational opportunities. Children learn best when they are engaged in play, qualified practitioners will use this knowledge and incorporate quality teaching methods. Creating an environment that demonstrates learning and having fun can only appeal to parents.
Warm and welcoming Team.
Establishing a home from home environment that make children feel more safe and secure, will help develop close bonds with their key person. It is important to remember that parents are leaving their children in the care of other people, so developing strong relationships with parents is highly important as this enables parents to feel confident in leaving their children. The most appealing nurseries are the ones that offer a warm and welcoming environment that demonstrates a happy learning environment..